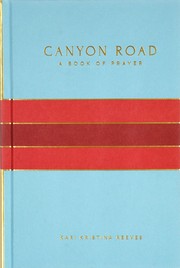 Canyon Road: A Book of Prayer, by Kara Kristina Reeves (ATLAS Spiritual Design, 2012).
Our own Professor Jerram Barrs is among those commending this book. He begins: "This is a remarkable book. I can honestly say that, apart from the Book of Psalms, this is the most helpful and moving collection of prayers that I have ever read." Besides the Introduction, there are 16 chapters or sections: Awakening Prayers; Model Prayers; Personal Prayers; Healing Prayers; Forgiveness Prayers; Creed Prayers; Temptation Prayers; Intercessory Prayers; Candle Prayers; Protection Prayers; Corporate Prayers; Enemy Prayers; Worship Prayers; Betrayal Prayers; Listening Prayers; and Bride Prayers.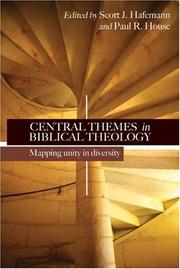 Central Themes in Biblical Theology: Mapping Unity in Diversity, edited by Scott J. Hafemann and Paul R. House (Baker Academic, 2007)
Hafemann is at Gordon-Conwell and House is at Beeson. They and five others are the contributors, for a total of seven essays or chapters:
The Covenant Relationship
The Commands of God
The Atonement
The Servant of the Lord
The Day of the Lord
The People of God
The History of Redemption.
Christian Theology & African Traditions, by Matthew Michael (Resource Publications, 2013).
The author is Academic Dean of ECWA Theological Seminary, Kagoro, Nigeria. (ECWA = Evangelical Church Winning All.) Here's a comment by the International Director, Riad Kassis, of the International Council for Evangelical Theological Education: "This book is not only an authentic attempt to bring Christian systematic theology into serious interaction with African traditions, but it serves as a guide to other endeavors in global theological education and proper theology discourse."
International Handbook of Survey Methodology, by Edith D. de Leeuw, Joop J. Hox, and Don A. Dillman (Lawrence Erlbaum Associates, 2008)
The first two authors are at Utrecht University in the Netherlands, and Dillman is at Washington State University. "Taking into account both traditional and emerging modes, this comprehensive new handbook covers all major methodological and statistical issues in designing and analyzing surveys."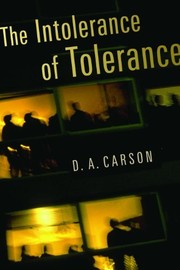 The Intolerance of Tolerance, by D. A. Carson (Eerdmans, 2012).
The contents are respectively headed:
Introduction: The Changing Face of Tolerance
What is Going on?
Jottings on the History of Tolerance
Worse than Inconsistency
The Church and Christian Truth Claims
And Still There is Evil
Tolerance, Democracy, and Majoritarianism
Ways Ahead: Ten Words.
Here are the "ten words" as elaborated in Carson's concluding "Ways Ahead":
Expose the New Tolerance's Moral and Epistemological Bankruptcy
Preserve a Place for Truth
Expose the New Tolerance's Condescending Arrogance
Insist That the New Tolerance is Not "Progress"
Distinguish between Empirical Diversity and the Inherent Goodness of All Diversity
Challenge Secularism's Ostensible Neutrality and Superiority
Practice and Encourage Civility
Evangelize
Be Prepared to Suffer
Delight in and Trust God.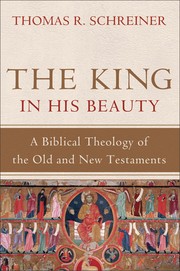 The King in His Beauty: A Biblical Theology of the Old and New Testaments, by Thomas R. Schreiner (Baker Academic, 2013).
Professor Robert Yarbrough says that this is: "A book that wonderfully unites all the books of the Bible. Few authors have the command of learning, the gift of teaching, and the heart for God that this volume reflects. Digest this book to elevate your grasp of the Bible and to find your soul riveted like never before to the King in his beauty."
Mission Namibia: Challenges and Opportunities for the Church in the 21st Century, edited by Thorsten Prill (Grin Verlag, 2012).
Editor Prill both lectures at Namibia Evangelical Theological Seminary (hereafter NETS) and is associate pastor of an inner-city Lutheran church in Windhoek. (Namibia from 1884-1915 was a German colony, then in 1915 taken over by South Africa until independence in 1990). Prill writes the first of 8 essays and it's on "Para-church ministry" (he sees such having a strategic role in Namibia). The second essay is by the academic dean at NETS, Basilius Kasera, and is headed "Doctrine" with the article's title being "Money, poverty and the church: the danger of the prosperity gospel in Namibia". Writing on the "quest for appropriate models of theological education for Africa" is Simon Gillham. He is an Anglican minister, studied at Moore Theological College in Australia and is pursuing a Doctor of Theology at South African Theological Seminary. Writing on church leadership is another NETS lecturer, Achim Rieger, who studied at Freie Theologische Akademie (Giessen School of Theology) in Germany. Victor Kuligin, a former NETS dean now at the Bible Institute of South Africa (Cape Town), writes on Christian ethics and specifically James 2:14-26 "with some insights for the Namibian church context." Editor Prill writes a second essay which deals with mission practice and specifically mission field theological controversies in southern Africa. Basilius Kasera also writes a second essay and it's on contextualization and specifically "African names for God and the biblical concept of YAHWEH." The final essay is by Windhoek's Grace Reformed Baptist Church pastor Tuundjakuye Spencer Tjijenda, who from 2004-2012 was a NETS part-time lecturer and coordinated their Distance Department. He writes "Carl Hugo Hahn and the spiritual condition of the Herero-Mbanderu people."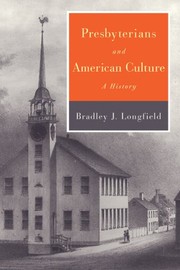 Presbyterians and American Culture: A History, by Bradley J. Longfield (WJK, 2013).
The author is an expert and his other writings include The Presbyterian Controversy: Fundamentalists, Modernists, and Moderates. He is Dean & Church History prof at the University of Dubuque Theological School. In 202 pages of text he covers much ground both very readably and evenhandedly. He observes that as theological differences increased, polity became focal. As others have done, Longfield also observes that the Presbyterian Church became more like a corporation in philosophy, organization, budgeting, etc. Longfield avoids what some others have done, which is ignore or obscure theological reasons and attribute the formation of the PCA to social conservatism (and even Southern sectionalism). He says: "Southern conservatives insisted that reunion with the northern church, especially after the adoption of the Confession of 1967, would imperil the doctrinal integrity of the PCUS." The following gives a good feel for Longfield's approach and style:
The Confession of 1967 was adopted as part of a Book of Confessions that, in addition to the Westminster Confession, added seven other Reformed confessions and catechisms as the doctrinal foundation of the church.  As historian James Moorhead has claimed, the adoption of the Book of Confessions "represented a theological milestone." This collection of documents "deepened the church's historic confessional identity," but also "presaged a looser style of confessional identity" and "gave a potential charter to redefine Presbyterian theological identity by retail."
Longfield and many others bring out the influence of "the Scottish philosophy of Common Sense" on Presbyterianism and the Princeton Theology in particular. His book is a little unusual but certainly helpful in its focus on some individuals along the way including not only some earlier ones but also a few more recent figures such as Henrietta Mears, John Foster Dulles, and Catherine Marshall.
Longfield's candor and clarity continues in his Epilogue, which begins as follows: "Since the reunion of the two major branches of the Presbyterian Church in 1983, the communion has seemingly moved from one crisis to another." He mentions the uproar in 1993-1994 over the RE-imagining Conference, the ongoing issue of abortion, the 50% membership decline since 1965, and the denomination's move in 2011 to permit ordination of practicing homosexuals, which contributed to the formation of ECO: A Covenant Order of Evangelical Presbyterians.
The book includes an appendix on page 207 showing "The Presbyterian Family Connections" updated to include not only the PCA (1973), the EPC (1981), the RPCES joining of the PCA (1982), and the UPCUSA/PCUS merger (1983), but most recently the 2012 formation of ECO: A Covenant Order of Presbyterians. Endnotes then fill pages 209-254, and an index follows.
Reframing Theology and Film: New Focus for an Emerging Discipline, edited by Robert K. Johnston (Baker Academic, 2007)
The editor is a Fuller Seminary professor of theology and culture. Of the 15 essay chapters arranged in six sections. Section 4, titled Engaging the Experience of the Viewer, includes a chapter titled "Polanyi's Personal Knowledge and Watching Movies." It's by Rebecca Ver Straten-McSparran, director of the L.A. Film Studies Center, director of the City of Angels Film Festival, pastor of an emerging church named Tribe of Los Angeles, and a leader in the Reel Spirituality Conference. Previously she was pastor at First Congregational Church in Los Angeles.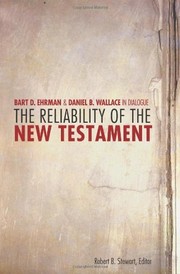 The Reliability of the New Testament: Bart D. Ehrman & Daniel B. Wallace in Dialogue, ed. Robert B. Stewart (Fortress, 2011).
This provides a "balanced case for both sides." What does it mean for a text to be textually reliable? How reliable is the New Testament? How reliable is reliable enough? Highlighted here are points of agreement and disagreement between two leading intellectuals on the subject of the textual reliability of the New Testament: Bart D. Ehrman of UNC-Chapel Hill and Daniel B. Wallace of Dallas Theological Seminary and Executive Director of the Center for the Study of New Testament Manuscripts. The book includes a transcript of the Greer-Heard Point-Counterpoint event with Ehrman and Wallace each presenting his position in light of the other's. Contributions from an interdisciplinary team of "specialists in biblical studies, philosophy, and theology continue the lively discussion of this engaging topic."
Reviving Evangelical Ethics: The Promises and Pitfalls of Classic Models of Morality, by Wyndy Corbin Reuschling (Brazos, 2008)
The author has her doctorate from Drew University and teaches ethics and theology at Ashland Theological Seminary. She expresses appreciation to Tyndale House in Cambridge for the time spent there on leave from Ashland, and also to colleagues in the Evangelical Ethics Interest Group at the Society of Christian Ethics annual meeting.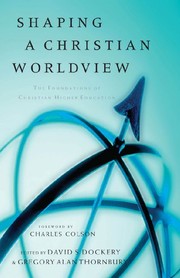 Shaping a Christian Worldview: The Foundations of Christian Higher Education, edited by David S. Dockery and Gregory Alan Thornbury (Broadman & Holman, 2002)
The book is dedicated to Carl Henry and Chuck Colson. Jean Bethke Elshtain (Laura Spellman Rockefeller Professor of Social and Political Ethics at the University of Chicago) says: "This lively volume displays the intellectual energy made possible when faith and reason work with, not against one another. The essays are written in a style that makes them accessible to laypersons and scholars alike. A welcome addition to an ongoing cultural debate." There are 18 essays from 19 contributors. Most chapter titles begin "The Christian Worldview and" followed by terms ranging from "Literature" to "Healthcare" and from "Music" to "Teaching" and from "Media" to "the Social Sciences"—even ones devoted to "Student Life" and "Campus Ministry."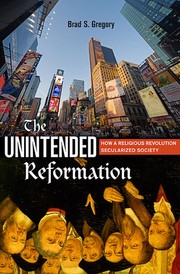 The Unintended Reformation: How a Religious Revolution Secularized Society, by Brad S. Gregory (Belknap Press of Harvard University Press, 2012).
This is as much about the present as the past, as the author identifies unintended consequences and traces how the Reformation shaped the modern condition over the course of the following five centuries. A hyper-pluralism of religious and secular beliefs, an absence of a substantive common good, and the triumph of capitalism and its driver, consumerism all were long-term effects of a movement that marked the end of more than a millennium during which Christianity provided a framework for shared intellectual, social, and moral life in the West. The Reformation sought to advance the Christian vision, not disrupt it. But a complex web of rejections, retentions, and transformations of medieval Christianity gradually replaced the religious fabric that bound societies together in the West. So we are left with fragments: intellectual disagreements that splinter into ever finer fractals of specialized discourse; a notion that science undermines religious belief; a pervasive resort to a therapeutic vision of religion; a set of smuggled moral values with which we try to fertilize a sterile liberalism; and the institutionalized assumption that only secular universities can pursue knowledge. The Unintended Reformation asks what propelled the West into this trajectory of pluralism and polarization, and finds answers deep in our medieval Christian past.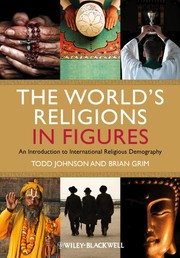 The World's Religions in Figures: An Introduction to International Religious Demography, by Todd M. Johnson and Brian J. Grim (Wiley-Blackwell, 2013).
Johnson is a Gordon-Conwell professor and directs the Center for the Study of Global Christianity. Grim is Director of Cross-National Data and Senior Researcher in Religion and World Affairs at the Pew Research Center's Forum on Religion and Public Life (in Washington, DC). Both are Visiting Research Fellows at the Institute on Culture, Religion, and World Affairs at Boston University, where Johnson co-edits the World Christian Database. Peter Berger writes the foreword, which begins: "This book is a remarkable achievement. It is the result of many years of work by the two authors, who must be considered the deans of international religious demography."
Just a glance at a few of the many tables of data reveals (Table 1.8) that in mid-2010 the first language of most of the world's Christians was Spanish (and that's across 76 countries), followed by English (across 193 countries), then Portuguese (across 57 countries), Russian (across 76 countries), Chinese (Mandarin, across 116 countries), French (across 139 countries), "German, Standard" (across 91 countries), Polish (across 46 countries), Ukrainian (across 40 countries), and Tagalog (across 54 countries, the main one being The Philippines). In 11th through 20th positions are some more of the non-European languages such as Amharic in 13th place (mainly Ethiopia but also 11 others), and Yoruba, Igbo, and Korean ranking 14th thru 16th.
Table 4.1 reveals that between 2010 and 2050, Christianity is projected to grow from 32.8% of the world's 6,895,889,000 people to 35.8% of the projected 9,306,949,000 world population. At the same time, the percentage of Muslims is projected to grow from 22.5% to 27.5%, Hindus to decline from 13.8% to 13.6%, Agnostics (currently fourth in number of adherents) to decline from 9.8% to 7.3%, Buddhists from 7.2% to 6.0%, Chinese folk-religionists from 6.3% to 4.1%, and among others, Atheists from 2.0% to 1.4%, Jews holding steady at 0.2%, and Daoists increasing slightly, Confucianists decreasing slightly, and so on. At the back is an appendix with country-by-country tables, a glossary, and an index.