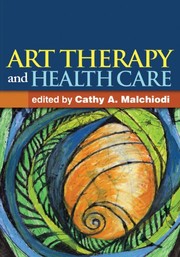 Art Therapy and Health Care, edited by Cathy A. Malchiodo (Guilford, 2013).
Demonstrating the benefits of creative expression for patients living with acute or chronic illness, this volume provides a complete, practical introduction to medical art therapy. It presents evidence-based strategies for helping people of all ages (from young children to the elderly) cope with physical and cognitive symptoms, reduce stress, and improve their quality of life. The book includes detailed case material and 110 illustrations. It describes ways to work with individuals and groups with specific health conditions and challenges, as well as their family members. Contributors are experienced art therapists who combine essential knowledge with in-depth clinical guidance.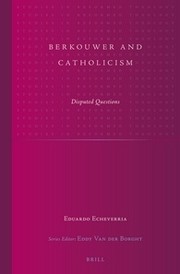 Berkouwer and Catholicism: Disputed Questions, by Eduardo Echeverria, Studies in Reformed Theology (Brill, 2013).
We're the only library in MOBIUS that owns this and we clearly should, not only owing to the series, the title, and the magnificent scholarship, but also to the coverage of people such as Bavinck, Al Mohler, Michael Horton, and R. C. Sproul. Beware readers, if you have rigid or unsophisticated views of Catholicism and/or the Reformed tradition! Caricatures seldom survive careful analysis and reflection. The Epilogue draws some conclusions from all that has preceded, including the author's observation of three approaches that "Reformed and Evangelical Christians [have] to the Roman Catholic Church." One is, as Berkouwer put it, "to engage in a fresh constructive and critical evaluation both of the contemporary teaching and practice of the Roman Catholic Church and of the classical controverted issues." The 1994 document Evangelicals and Catholics Together and the Center for Catholic and Evangelical Theology (and its journal, Pro Ecclesia) represent this approach. The other two "have remained essentially negative," the one owing to the belief that developments in Catholicism haven't really addressed issues from the sixteenth century, and the other because some Reformed and Evangelical folks "have been largely untouched by the ecumenical exchanges of recent times."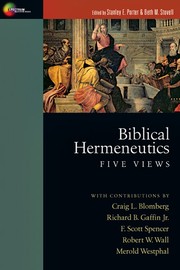 Biblical Hermeneutics: Five Views, edited by Stanley E. Porter and Beth M. Stovell (IVP Academic, 2012).
Craig Blomberg (Denver Seminary) presents "The Historical-Critical/Grammatical View"; F. Scott Spencer (Baptist Theological Seminary, Richmond, VA) does "The Literary/Postmodern View"; Merold Westphal (prof emeritus, Fordham University) writes "The Philosophical/Theological View"; Richard Gaffin (Westminster-PA) presents "The Redemptive-Historical View"; and Robert Wall (Seattle Pacific University) presents "The Canonical View."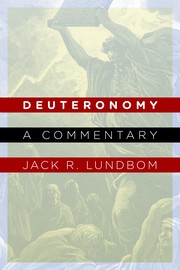 Deuteronomy: A Commentary, by Jack R. Lundbom (Eerdmans, 2013).
Catholic University of America's Robert Miller claims that "Jack Lundbom has written what is at last the successor to S. R. Driver's 1895 ICC commentary on Deuteronomy." The "exhaustive work includes a fresh translation close to the Hebrew so as to bring out rhetorical structures lost in English since the King James Version." The exegesis has special focus "on delimitation, framing, keywords, chiasms, and inclusios determined both from the rhetorical criticism Lundbom is known for and from evidence in the ancient manuscripts."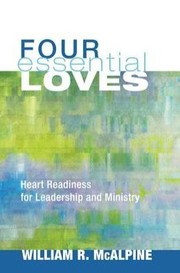 Four Essential Loves: Heart Readiness for Leadership and Ministry, by William R. McAlpine (Wipf & Stock, 2013).
The author has an Aberdeen doctorate, has served Christian and Missionary Alliance churches in Canada as pastor, and now teaches practical theology at Ambrose University. When one looks at the table of contents there are six chapters, the middle four covering the loves for God's Word, the Church, the lost, and "One's Self: Narcissism or Necessity?" Chapter 1 is "Loving God with All I Am: Where It All Begins" and the sixth is "Selah: Leading with a Ready Heart."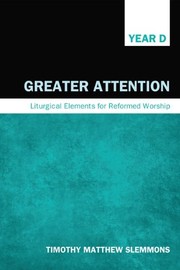 Greater Attention: Liturgical Elements for Reformed Worship, Year D, by Timothy Matthew Slemmons (Cascade Books, 2013).
When Heaven Stands Open: Liturgical Elements for Reformed Worship, Year B, by Timothy Matthew Slemmons (Cascade Books, 2013).
Looking for fresh and resonating material for various parts of the Reformed worship service? These resources are a good place to turn. Prayers of Confession, Declarations of Forgiveness, a Prayer for Preparation for Worship, The Offertory, and more can be found here.
Holy War in the Bible: Christian Morality and an Old Testament Problem, edited by Heath Thomas, Jeremy Evans, and Paul Copan (IVP Academic, 2013).
Six Parts are: 1) The Challenge of "Holy  War" for Christian Morality; 2) OT Perspectives; 3) NT Perspectives; 4) Biblical-Theological Perspectives; 5) Ethical and Philosophical Perspectives; and 6) Theological Perspectives. Each part has two chapters except part 5, which has four. Southeastern Baptist Theological Seminary has three professors and three alumni among the contributors and a few other Baptist seminaries also are represented, but so are Duke University, Biblical Theological Seminary, and Belfast's Union Theological College.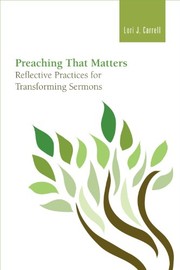 Preaching That Matters: Reflective Practices for Transforming Sermons, by Lori J. Carrell (Alban, 2013).
The author is professor of communication and director of the Center for Excellence in Teaching and Learning at the University of Wisconsin-Oshkosh. Commendations of the book come from a wide range of pastors, seminary professors, etc. (mostly Protestant but at least one Catholic and one Orthodox). The nine chapters are: 1) "Affirming That Preaching Matters"; 2) "Embracing a Sermon Communication Perspective"; 3) "Transforming, Not Informing"; 4) "Exegeting, Then Organizing"; 5) "Going Deeper, Not Wider"; 6) "Delivering, Not Decorating"; 7) "Loving Your Language"; 8) "Listening to Your Listeners";  and 9) "Planning for Continued Transformation".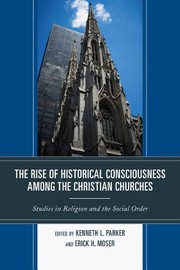 The Rise of Historical Consciousness Among the Christian Churches, ed. Kenneth Parker and Erick Moser, Studies in Religion and the Social Order (University Press of America, 2013).
Parker is a professor at St. Louis University and Moser is a PhD candidate there. Seven essays are by six scholars including Parker. (Berry College's Harvey Hill writes two.) Wake Forest's Bill J. Leonard writes what seems to be a helpful essay on Baptists in the South. He says there is no "pristine, systematic and unified source of Baptist identity. […] In fact, there are multiple Baptist traditions—theological, regional and institutional [… and] many Baptist 'stories' from which congregations and individuals may draw." Among other essays are "Erasmus and the Birth of Historical Consciousness" and ones on D.F. Strauss & F.C. Baur, on Charles Augustus Briggs, on Vatican II, and so on. A glance at Hill's essay on Briggs revealed that a while after being convicted in his (PCUSA) trial, Briggs was of a mind to complain to Union Seminary's board that his colleague McGiffert, who had denied the Virgin Birth, was undermining Christian doctrine. As Hill says, this shows that "Briggs refused to follow the implications of his methods and assumptions to their ultimate conclusion."
Short-Term Mission: An Ethnography of Christian Travel Narrative and Experience, by Brian M. Howell (IVP Academic, 2012).
Trinity (IL) professor of mission and anthropology Robert J. Priest says that the anthropologist author "brings rich research skills in participant observation and expertise in social theory to this fascinating project. His book is at the cutting edge of emerging scholarship on the topic of short-term missions. Scholars, students, and participants in short-term mission trips will all find this book educational, insightful and provocative." Messiah College's anthropology professor Jenell Williams Paris says, in part: "This book will help churches and groups do short-term mission with strong preparation, realistic and respectful crosscultural relationships, spiritual reflection and follow-up, and most importantly, faithfulness to the Great Commission."
So You're Thinking About Going to Seminary: An Insider's Guide, by Derek Cooper (Brazos, 2008).
Protestant seminaries are focal, but Catholic and Orthodox are not neglected. Under "Denominationally Affiliated" (in the fourth chapter dealing with "Affiliations, Traditions, and Denominations," the PCA is given as the example of the fact that, for the most part, a person's "church has a counterpart in the seminary world," and Covenant and Knox are named as the PCA's. The major Orthodox seminaries are listed, and yet only five Catholic seminaries are mentioned. One is Washington Theological Union—which in 2011 announced it will close in 2013—and one is Aquinas Institute (St. Louis) which is a leftward and somewhat struggling school whose grads are not really acceptable to the Archdiocese (which has its own Kenrick Seminary). In chapter 3 on "Discovering Whether Seminary is Right for You," Biblical Theological Seminary's track for those who work full-time (e.g., pastors with only Bible College, if that) is cited as an example of why attending class full-time during weekdays is not necessarily required. The chapter also notes that Bill Hybels, Brian McLaren, and Joel Osteen did not go to seminary. Three appendixes are: "Seminary Past and Present"; a checklist; and a glossary. All are brief and basic. There's a very short bibliography and no index. Most of the spare bibliography is a list of seminaries mentioned.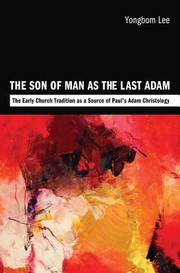 The Son of Man as the Last Adam: The Early Church Tradition as a Source of Paul's Adam Christology, by Yongbom Lee (Pickwick, an imprint of Wipf & Stock, 2012).
John Nolland of Trinity College (Bristol, UK) says that although there's little scholarly consensus of the degree to which Paul was dependent on the "Jesus tradition," Lee "adds significantly to the case for important elements of Paul's dependence on Jesus" by appealing to Adam-Christ typology, specific features of the Son of Man tradition, and an emphasis on creative adaptation.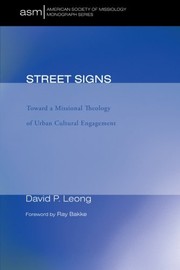 Street Signs: Toward a Missional Theology of Urban Cultural Engagement, by David P. Leong, American Society of Missiology Monograph Series, vol. 12 (Pickwick, 2012).
Author is associate professor of missiology in the School of Theology at Seattle Pacific University. His dissertation is from Fuller Seminary's School of Intercultural Studies and lies behind this book, which focuses on Seattle as a representative urban setting in today's world. [That could be both a strength and a weakness, because Seattle represents not a few cosmopolitan cities with its growth, diversity, ranges in status and income, etc., but it also is very different than many. Think of the differences among Bangkok, Beijing, Helsinki, Johannesburg, Mumbai, Rio, and Riyadh, for example.] Fuller's Ryan Bolger says:
Seattle serves as a microcosm of our new global reality – where East and West meet in postmodern context. David Leong understands this reality … The issues he addresses are […] rooted in the concrete practices of the church. Street Signs is essential reading for those who hope to foster multicultural and multi-socioeconomic Christian communities in contemporary global contexts.
The book has four parts and eleven chapters, plus an Introduction and Conclusion, a bibliography, and three indexes. Each part opens with a very nice rundown of what each of its chapters covers. Leong opens part 4 with a quote from Models of Contextual Theology, by Stephen Bevans (2002):
There is no such thing as "theology"; there is only contextual theology: feminist theology, black theology, liberation theology, Filipino theology, Asian-American theology, African theology, and so forth. Doing theology contextually is not an option, nor is it something that should only interest people from the Third World, missionaries who work there, or ethnic communities within dominant cultures. The contextualization of theology—the attempt to understand Christian faith in terms of a particular context—is really a theological imperative. As we have come to understand theology today, it is a process that is part of the very nature of theology itself.
Glances at Leong's text in a few places were heart-warming. For example, he affirms the need for mercy ministries and other such tangible urban efforts by the evangelical church, but he points out the hesitance (if not failure) to engage the power of those in charge of urban areas, and also corruption which may be endemic and very difficult to challenge.
The word Signs in the book's title may relate to Leong's attention to semiotics. He well defines this as
a diverse, interdisciplinary field that studies how signs and symbols create meaning in contexts ranging from linguistics and anthropology to biology and computer science. Its fundamental inquiry has to do with the nature of the sign, and its function in the realm of meaning, with all the dimensions of complexity therein. […]

[And,] cultural semiotics […to quote Robert Schreiter's Constructing Local Theologies] "sees culture as a vast communication network, whereby both verbal and nonverbal messages are circulated along elaborate, interconnected pathways, which, together, create the systems of meaning."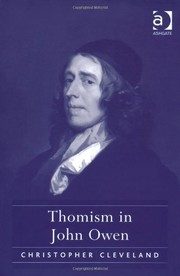 Thomism in John Owen, by Christopher Cleveland (Ashgate, 2013).
The author has the MAR from Westminster Seminary (PA) and this book issues from his Aberdeen dissertation. He argues that Owen was influenced by: a) "the Thomistic doctrine of God, particularly the understanding of God as pure act"; b) the "understanding of grace and human action, particularly by the Thomistic concept of infused habits of grace"; and c) "by the Thomist formulation of the person of Christ."