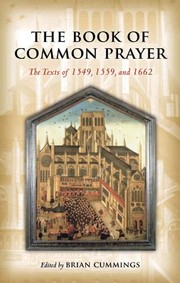 The Book Of Common Prayer: The Texts of 1549, 1559, and 1662, ed. Brian Cummins (Oxford, 2011).
While the aim of this edition is to represent the book in multiple states, what is offered here is strictly a snapshot of the book in the three years chosen. A full text of all three editions would have necessitated a wheelbarrow to carry it, so a compromise has been made. The edition here of 1662 is comprehensive, and includes everything within its covers in that year, including the State Services ('Gunpowder Treason and Plot', etc.) which had formerly only been loosely inserted. In fact, the Book of Common Prayer varied considerably in its extent up to this point. The Psalter and the Ordinal were not formally part of the book before 1662, although they were printed in parallel editions and often bound together" [along with a Bible and Sternhold and Hopkins's edition of the Metrical Psalms].
Pages 687-796 are a goldmine of explanatory notes. A glossary (797-820) contains hundreds of entries from "a newe [=] anew" to "Palm Sunday [=] the Sunday before Easter" to "Zache [=] the prophet Zechariah."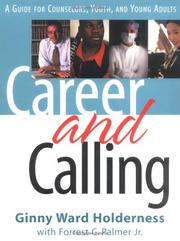 Career and Calling: A Guide for Counselors, Youth, and Young Adults, Ginny Ward Holderness with Forrest C. Palmer Jr. (Geneva Press, 2001).
Holderness also wrote Teaming Up: Shared Leadership in Youth Ministry. The book provides "thoughtful reflection on faith and career along with six study sessions to explore the essentials of both."
Creative Worship: Services from Advent to Pentecost, by Ian Price and Carolyn Kitto (Wood Lake Books, 1999).
The authors are Australian, the publisher Canadian. Full liturgies are provided, and many choices as well among the readings, songs, and ideas.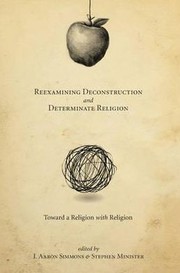 Reexamining Deconstruction and Determinate Religion: Toward a Religion with Religion, ed. J. Aaron Simmons & Stephen Minister (Duquesne University Press, 2012).
Contributors are at Augustana, Florida Southern, and Wheaton Colleges and at Australian Catholic, Fordham, Furman, Syracuse, and Villanova Universities. This polygraph "addresses the conventional conflicts between those who desire a more objective, determinate, and quasi-evidentialist perspective on faith and religious truth and those who adopt a more poetic, indeterminate, relativistic, and radical one." The volume "offers a sustained challenge to the prominent paradigm of a 'religion without religion,' proposed in a deconstructive philosophy of religion," as articulated by Jacques Derrida and advanced by John D. Caputo.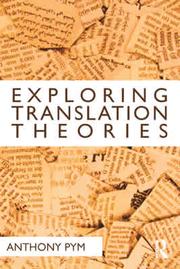 Exploring Translation Theories, by Anthony Pym (Routledge, 2010).
Pym presents a comprehensive analysis of the core and contemporary paradigms of Western translation theory.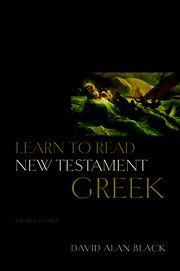 Learn to Read New Testament Greek, by David Alan Black, 3rd ed. (B&H Academic, 2009).
Professor Robert Yarbrough says: "Pedagogically conceived, linguistically informed, hermeneutically sensitive, biblically focused—unique among beginning grammars. It sets a new standard." This grammar is hardcover, 9″ x 6″, and there's a Greek verb chart included which is 24″ x 14″ and folded so as to be tucked inside the back cover (so hopefully those borrowing library copies will use care as they study its conjugations of λμω and ιστημι). Black first published this grammar in 1993 and in 1994 came out with an expanded edition whose preface is included here and indicates that Dr. Yarbrough was among those whose suggestions helped improve the work. The expanded edition added "a key to the exercises, a summary of noun paradigms, a table of case-number suffixes, a table of person-number suffixes, a summary of prepositions, a list of words differing in accentuation or breathing, and a lists of principal parts." After 15 years the 3rd edition appeared at the request of the publisher in view of their coming out with a workbook of supplemental exercises done by Ben Gutierrez & Cara Murphy. When Black asked people for advice about the revision, he mainly was told to leave the grammar "as is"; he did update bibliographies, reworded several explanations, and added "section numbers indicating where each word in the vocabulary (pages 247-253) first occurs in the grammar."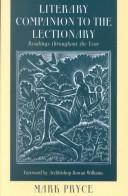 Literary Companion to the Lectionary, compiled & edited by Mark Pryce (Fortress, 2002).
"In building a bridge between literature and liturgy, these readings (whether in private prayer or public worship) can prompt an imaginative engagement in worship and study of the Scriptures."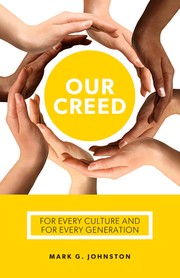 Our Creed: For Every Culture and For Every Generation, by Mark G. Johnston (P&R, 2012).
The author is "Senior Minister of Proclamation Presbyterian Church (PCA) in Bryn Mawr, Pennsylvania." Mike Honeycutt (recent Covenant Seminary church history professor) is among those quoted on the back cover briefly, and at length inside the front cover. From the latter: "The Apostles' Creed reminds me that the truths I hold so dear are the same truths cherished by Christians around the world and throughout the centuries."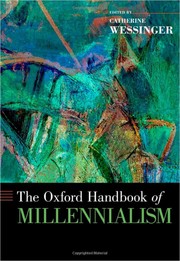 The Oxford Handbook of Millennialism, ed. Catherine Wessinger (Oxford, 2011).
There are five Parts to this 745-pager, the first being "Introduction" and the last "Glossary and Indexes." Besides more familiar terms such as "amillennialism," the glossary includes things like "conditional apocalypticism" (humans can forestall imminent destruction of the world if they act in accordance with spiritual principles or a superhuman plan) and "fragile millennial groups" (those that initiate violence due to internal factors or more likely a combination of them and stresses of external opposition that are perceived to endanger their "ultimate concern"—which itself is a term in the glossary). Here are some more unusual glossary entries: "avertive millennialism"; "catastrophic millennialism"; "cool millennialism" (their vision of the collective salvation is seen as happening in an indeterminate future); "demotic millennialism" (movements originating at the grassroots, such as desires for justice, equality, and well-being); "environmental millennialism"; "hierarchical millennialism" (ideas promoted by a ruler or dynasty to legitimate its reign); "nativist millennialism" (chapter 5's title but listed in the glossary as "nativist millennial movement"); "progressive millennialism"; and "realized millennialism." Part IV is the volume's largest, with geographic breadth (e.g. chap. 16, "Chinese Millennial Movements) and historical depth, e.g., Ancient Near Eastern (chap. 12); Jewish and Early Christian (ch. 13); early Islamic (ch. 14); European (ch. 15); "Christian Dispensationalism" (ch. 26); "Modern Catholic Millennialism" (ch. 28); etc.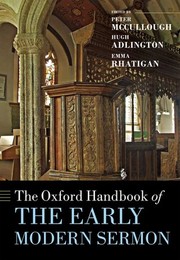 The Oxford Handbook of the Early Modern Sermon, ed. Peter McCullough, Hugh Adlington, & Emma Rhatigan (Oxford, 2011).
Part I is "Composition, Delivery, Reception" with 12 chapters including Carl Trueman's "Preachers and Medieval and Renaissance Commentary." Part II deals with Scottish, Irish, and Welsh sermons; Part III with English sermons from 1500-1660; Part IV with English sermons from 1660-1720. Part V comprises the Appendixes, the first being "Preachers on Preaching".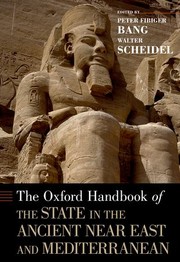 The Oxford Handbook of the State in the Ancient Near East and Mediterranean, ed. Peter Fibiger Bang & Walter Scheidel (Oxford, 2013).
Five Parts comprise 18 chapters by as many contributors. Part I is the Introduction. Other Parts respectively are titled: Near Eastern States; Aegean States and Their Extensions; Central Mediterranean States and Their Extensions; and Transformations of the Ancient State, which has its 3 chapters titled, respectively: "The Byzantine Successor State"; "The Germanic Successor States"; and, "The First Islamic Empire."
Prime Time Preaching: Planning Services on Sensitive Subjects, by Eldon Weisheit (Concordia, 1997).
Among the tools for dealing with the sensitive subjects are sermon suggestions, children's messages, bulletin / worship folder ideas, choral readings, drama, and Bible study. The subjects included are: prejudice, violence, (un)employment, divorce, helping the needy, grief, sanctity of life, and stewardship.
Till We Have Built Jerusalem, by Philip Bess (ISI Books, 2006).
Bess "puts forth fresh arguments for traditional architecture and urbanism, their relationship to human flourishing, and the kind of culture required to create and sustain traditional towns and city neighborhoods. [… These] at their best, help fulfill our natural human desires for order, beauty, and community." The index reveals quotation of Calvin at one point (and excellently).  Aristotle and G. K. Chesterton are prominent. Bess directs graduate studies at Notre Dame's School of Architecture.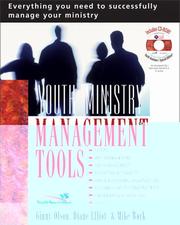 Youth Ministry Management Tools: Everything You Need to Successfully Manage and Administrate Your Youth Ministry, by Ginny Olson, Diane Elliot and Mike Work (Youth Specialties, Zondervan, 2001).
From vision statements and budgets to volunteers, job interviewing and medical release forms for travel, this manual is helpful.