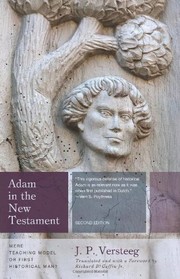 Adam in the New Testament: Mere Teaching Model or First Historical Man? by J. P. Versteeg, translated by Richard B. Gaffin Jr., 2nd ed. (P&R, 2012)
This is the second edition in English (there's not a Dutch one), the 1978 edition having appeared under the title Is Adam a "Teaching Model" in the New Testament? Both are a slightly abridged translation of a chapter in Woord en Kerk (Amsterdam: T. Bolland, 1969; pages 29-70). Our professor C. John Collins says (back cover): "Many thanks for reissuing this helpful work. … Anyone reading this will appreciate that contemporary discussions of Adam are still treading the same ground."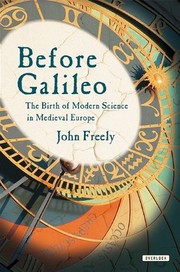 Before Galileo: The Birth of Modern Science in Medieval Europe, by John Freely (Overlook Duckworth, 2012)
The author, an American born in 1926, has written more than 40 books and currently teaches at Bosphorous University in Istanbul. The dust-jacket says that histories of modern science often begin with Galileo, and that is misleading.
Virtually nothing is said about the European scholars who came before. In reality, more than a millennium before the Renaissance, a succession of scholars paved the way for the exciting discoveries usually credited to Galileo, Newton, Copernicus, and others. […] Trenchantly filling a notable gap […this book] places the great discoveries of the age in their rightful context.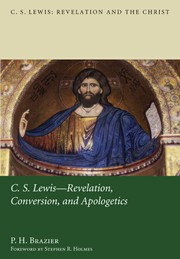 C. S. Lewis: Revelation, Conversion, and Apologetics, by P. H. Brazier, C. S. Lewis: Revelation and the Christ series (Pickwick, 2012) — www.cslewisandthechrist.net
Commending this book, Emeritus Professor of Theology, Religion & Culture, Andrew Walker (King's College, London), says:
Comments and publications on C. S. Lewis have become increasingly sterile since his death in 1963—mere footnotes to the champion of 'mere Christianity.' So what a joy it is to find, as we do in this first volume of Paul Brazier's painstaking study of Lewis's thought, a genuine work of scholarship that is not only worthy of the great man but also provides for us what Lewis never did himself: a systematic philosophical theology of his religious method and beliefs.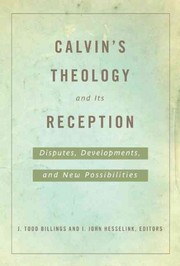 Calvin's Theology and Its Reception: Disputes, Developments, and New Possibilities, ed. J. Todd Billings and I. John Hesselink (WJK, 2012)
Billings is Assoc. Prof. of Reformed Theology at Western Theological Seminary (MI); Hesselink is that school's Van Rallte Prof. Emeritus of Systematic Theology. Scott Manetsch of Trinity (IL) says: "This outstanding collection of essays explores the headwaters of John Calvin's theology […] and maps out major tributaries of his religious thought to the present day." Besides folks at Brite Divinity, Calvin, Harvard Divinity, Hope College, Rhode Island College, and Western Seminary, Michael Horton (WTS-CA) and Carl Trueman (WTS-PA) are among contributors of the 10 essays, two each under 5 sections that relate to Calvin's theology & its reception in the areas of, respectively: Scripture and revelation; union with Christ; election; The Lord's Supper; and church and society.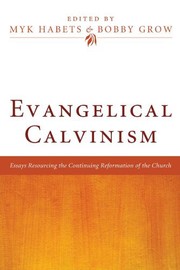 Evangelical Calvinism: Essays Resourcing the Continuing Reformation of the Church, ed. Myk Habets and Bobby Grow (Pickwick, 2012)
Fifteen essays arranged under four Parts are by twelve contributors from Australia, New Zealand, Scotland, and the United States (pastors, professors, retired profs, and PhD candidates). The foreword says:
In view of sometimes particularly radical conflicts within Reformed theology [this book] aims to advocate the case for an Evangelical Calvinism as opposed to alternative versions generally known by such names as "Federal," "Covenantal," or "Predestinarian" Calvinism.
Evangelical Calvinism looks to Calvin himself, though:
not uncritically—and after him to a Calvinist tradition represented in Scotland in the sixteenth and seventeenth centuries by John Knox and the Scots Confession of 1560 and followed by other Scottish theologians, and distinguished both in style and substance from the more generally known Calvinism of the anti-Arminian Decrees of Dordt, the Westminster Assembly, and Federal Theology.
Evangelical Calvinism is:
well summed up by John McLeod Campbell's insistence over against the dominant Calvinism, of his own day, that in our relationship with God "the filial is prior to the judicial" rather than vice versa. […] If there are two themes which generally characterize the approach taken in this collection [of essays], in spite of all differences of emphasis and style, they must be "the vicarious humanity of Christ" and "union with Christ."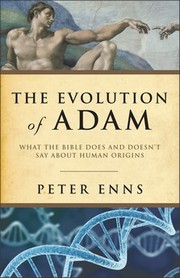 The Evolution of Adam: What the Bible Does and Doesn't Say about Human Origins, by Peter Enns (Brazos, 2012)
Noting recent scientific developments that pose problems for the idea of humanity coming from a single couple, Tremper Longman says that Enns argues we have been misreading the Bible, and that while not agreeing "with everything that Enns suggests, his book is an important contribution to the discussion of Genesis 1-2 and science."
The Hole in Our Holiness: Filling the Gap between Gospel Passion and the Pursuit of Godliness, by Kevin DeYoung (Crossway, 2012)
John Piper, John M. Perkins, Michael Horton, Nancy Leigh DeMoss, and Redskins quarterback Kirk Cousins are among 8 people commending this book. Among folks it may help are those who have heard so much about their righteousness being filthy rags that they live ungodly lives.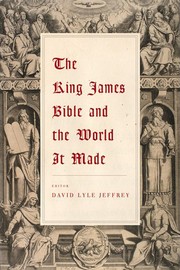 The King James Bible and the World It Made, ed. David Lyle Jeffrey (Baylor, 2011)
The eight essays are by very capable people, e.g. Robert Alter (Berkeley), Mark Noll (Notre Dame), Laura Knoppers (Penn State), etc. as well as D. Bebbington and A. McGrath from the UK. The last essay, by Baylor's Beth Allison Barr, is titled "The Word that Endureth Forever: A Century of Scholarship on the King James Version." Barr discusses thirty works, each having roughly a page of individual attention.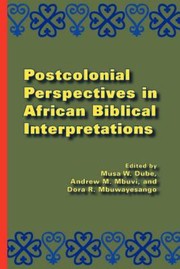 Postcolonial Perspectives in African Biblical Interpretations, ed. Musa W. Dube, Andrew Mbuvi, and Dora Mbuwayesango, Global Perspectives on Biblical Scholarship series, no. 13 (Society of Biblical Literature, 2012)
There are 8 parts, each having a few essays. There are 23 contributors, almost all at schools in the USA or South Africa. The topics are on biblical interpretations related to such matters as gender, social engagement, "unthinking" (i.e. departure from) Eurocentrism, reconstruction, HIV/AIDS, and "re-reading the colonial translated Bibles." Dube is a professor at University of Botswana, Mbuvi at Shaw University Divinity School (High Point, NC), and Mbuwayesango at Hood Theological Seminary (the seminary of the AME Zion Church in Salisbury, NC). There are 2 indexes: ancient sources (very few apart from the Bible) and modern authors. Dube is the most cited in the latter index, Gerald O. West the second most cited.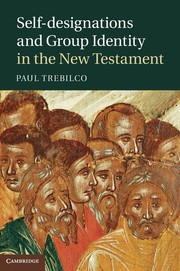 Self-designations and Group Identity in the New Testament, by Paul Trebilco (Cambridge, 2012)
The author teaches in New Zealand at the University of Otago. James D. G. Dunn and John M. G. Barclay, both of Durham University, commend this book. Dunn says the author "tackles these questions with scholarly acumen and gusto." He says the questions are: "Who did the first Christians think they were? What's in a name?"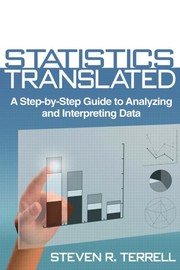 Statistics Translated: A Step-by-Step Guide to Analyzing and Interpreting Data, by Steven R. Terrell (Guilford, 2012)
There is so much abuse and misuse of statistics, even by Barna and others who specialize in gathering and analyzing data. This book can help DMin, MAC, MDiv, and other students, not to mention pastors, teachers, researchers, and the educated public.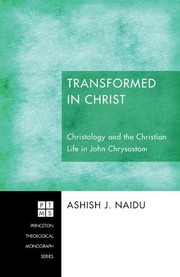 Transformed in Christ: Christology and the Christian Life in John Chrysostom, by Asish J. Naidu, Princeton Theological Monograph Series (Pickwick, 2012)
Talbot's Alan Gomes says this "is an important contribution and corrective to the literature" and that it treats "Chrysostom's Christology as set within the contours of his overall thought, giving particular consideration to the sacramental and praxeological dimensions that undergird his conception of the Savior's person and work."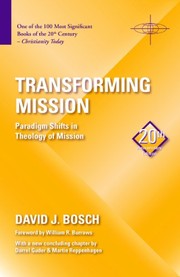 Transforming Mission: Paradigm Shifts in Theology of Mission (20th Anniversary Edition), by David J. Bosch, American Society of Missiology Series, No. 16 (Orbis, 2011)
Buswell Library also has the original 1991 and the 2006 editions. This one has a new concluding chapter by Darrell L. Guder & Martin Reppenhagen, who "explore the impact of Bosch's work and the unfolding application of his seminal vision." Lesslie Newbigin is quoted (back cover) as saying: "David Bosch's work is a kind of Summa Missiologica. … it will surely be the indispensable foundation for the teaching of missiology for many years to come." It's now available in over a dozen languages. Anabaptist influence (notably through John Howard Yoder) on Bosch was strong.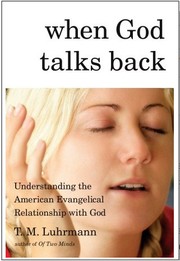 When God Talks Back: Understanding the American Evangelical Relationship with God, by T. M. Luhrmann (Knopf, 2012)
This is receiving many positive reviews on Amazon, including some from leading pastors in Vineyard, who commend Mrs. Luhrmann for her excellent research, the friendship that developed with her, and the help Vineyard churches can glean from discussing her book. Luhrmann is an anthropology professor at Stanford. Her maternal grandfather was a Baptist minister, her husband's parents were Christian Science adherents, and a good bit of her childhood was in an area with many Orthodox Jews. A notable weakness of the book is the limitation of her research to Vineyard, which of course is but one strand of evangelicalism. Luhrmann speaks of the work as an ethnographic account and also deems evolutionary psychology to be "one of the most interesting and original approaches to religion in many years." Her "Bibliographic Notes" are perhaps the richest part of the book, and are not to be confused with either her "Notes to Pages" (endnotes) which precede them, or the "Bibliography" that follows. A glance at "Bibliographic Notes" for Luhrmann's tenth & final chapter revealed such lines as: "I take the self-conscious use of play to manage doubt to be characteristic of modern neo-Pentecostal spirituality and quite lacking in never-secular Christianities [in Africa, e.g.]." And how about these lines:
In these never-secular societies (a term I take from a conversation with Joel Robbins), where the reality of the supernatural as a category has not been profoundly questioned, doubt is focused on specific supernatural claims—the reality of non-Christian spirits, the validity of spiritually charged mechanisms, the efficacy of particular prayers. In never-secular societies, congregants do not need help to persuade themselves to take the entire enterprise seriously in the first place. And in none of these societies do we find an interest in an explicitly as-if engagement that helps to place the spiritual in an epistemology space that is neither straightforwardly real nor transparently fictional.

The characteristically self-conscious, playful, and deliberately paradoxical orientation of the experiential evangelical world has been identified as a secular style in a scholarly collection edited by Joshua Landy and Michael Saler, The Re-enchantment of the World. Readers might also be interested in a  remarkable book by a Pentecostal philosopher: Thinking in Tongues, by James K. Smith. Smith argues that enchantment is central to the Pentecostal construal of the world, that at its heart lies a deep sense of expectation and openness to surprise.