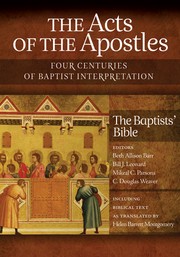 The Acts of the Apostles: Four Centuries of Baptist Interpretation: The Baptists' Bible. Including Biblical Text as Translated by Helen Barrett Montgomery, ed. Beth Allison Barr, Bill J. Leonard, Mikeal C. Parsons, and C. Douglas Weaver (Baylor, 2009). [Amazon]
Chock full of reasonably substantial (not too long, not too short) comments by 121 Baptist authors. The arrangement is by the chapters of Acts, some considered by themselves and some considered together with an adjoining chapter or two. Within each of these the arrangement of the authors' comments are chronological by century. And what a range of authors, from John Gill (1697–1771) to Rick Warren (Saddleback Church), from Harry Emerson Fosdick to Billy Graham, from John Franklyn Norris to Millard Erickson, and from Jesse Jackson Sr. to Clark Pinnock.
A Book of Services, The United Reformed Church in the United Kingdom (The Saint Andrew Press, 1980).
This was a gift book to the Library. Very prominent is observance of Advent, Christmas, Epiphany, Lent, Passiontide, Easter, Ascension, Pentecost, Trinity, All Saints, Harvest, and Old and New Year. There's nothing about non-Christian observances such as the American Sanctity of Life Sunday, Mother's Day, Memorial Day, Father's Day, etc.  A Book of Services has sections devoted to baptism and confirmation, ordination, weddings, funerals, dedication of a church, etc. It also has an "Order of Service for Healing." There's a (perpetual) calendar and lectionary table of OT, NT, and Gospel readings and a separate one for Psalms. The Creeds and Canticles section includes (in this order): Apostles' Creed, Nicene Creed, The Confession of Faith of the United Reformed Church (one page), the Te Deum, Responses after the Te Deum, Benedictus, Magnificat, Nunc Dimittis, Agnus Dei, and Gloria Patri (although it lacks "world without end" and concludes with "is now, and shall be forever. Amen.").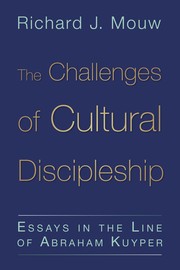 The Challenges of Cultural Discipleship: Essays in the Line of Abraham Kuyper, by Richard J. Mouw (Eerdmans, 2012). [Amazon]
Back cover: "In thirteen essays Mouw explores and develops the Kuyperian perspective on key topics in Christian cultural discipleship, including public theology, sphere sovereignty, education, creation, and more." These essays appeared in various journals and polygraphs, but it is valuable to have them assembled here.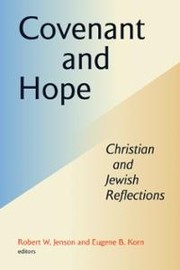 Covenant and Hope: Christian and Jewish Reflections, ed. Robert W. Jenson and Eugene B. Korn (Eerdmans, 2012). [Amazon]
Korn is Director of the Institute for Theological Inquiry (ITI), and he and Jenson serve as co-directors of its theology projects. ITI is a division of the Center for Jewish-Christian Understanding and Cooperation in Efrat, Israel. Its American partner is the Witherspoon Institute of Princeton, NJ. ITI's objective is to engage world-class theologians in an effort to break new theological ground through focused research projects in areas critical to Judaism, Christianity, social values, and world culture. ITI aims to develop rich new foundations for cooperative Jewish-Christian understanding as well as spiritual and moral values that will bear on global religious, cultural, and political life in the 21st century. It is the goal of ITI that its research be adapted and utilized as pedagogical tools in educational settings. Among over a dozen essays in this book are Gerald McDermott's "Covenant, Mission, and Relating to the Other" and Miroslav Volf's "God, Hope, and Human Flourishing."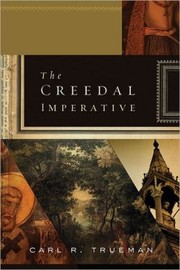 The Creedal Imperative, by Carl Trueman (Crossway, 2012). [Amazon]
As longtime PCA Coordinator for Christian Education & Publications Charles Dunahoo says (in part), this book "speaks to the necessity of creeds and confessions, which tend to save us from attempts to privately interpret the Scripture [… and] keep us from misunderstanding God's truth."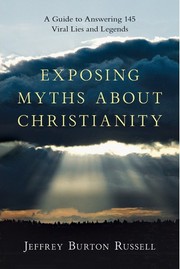 Exposing Myths About Christianity: A Guide to Answering 145 Viral Lies and Legends, by Jeffrey Burton Russell (IVP, 2012). [Amazon]
The 145 myths/answers are arranged under 8 headings:
Christianity is Dying Out—9 myths/answers
Christianity is Destructive—34
Christianity is Stupid—19
Jesus and the Bible Have Been Shown to Be False—21
Christian Beliefs Have Been Shown to Be Wrong—38
Miracles Are Impossible—4
Worldviews Can't Be Evaluated—9
What's New Is True—11
There's a bibliography and two indexes. Russell has written 15 other books and co-authored an additional 3, with his own including: Medieval Civilization;  Satan: The Early Christian Tradition;  Inventing the Flat Earth: Columbus and the Historians; and The Prince of Darkness: Radical Evil and the Power of Good in History.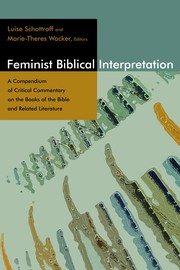 Feminist Biblical Interpretation: A Compendium of Critical Commentary on the Books of the Bible and Related Literature, ed. Luise Schottroff and Marie-Theres Wacker, translated from the second German edition by Lisa E. Dahill and six others (Eerdmans, 2012). [Amazon]
The preface to the first German edition is dated 1998 and that for the second is dated 1999, so a dozen years elapsed before the appearance of this translation. The Contributor's Vitae section (pages 997-1017) lists 58 people (all women). Most are from German universities, but there are some from the USA, one at a school in Costa Rica, and several in Switzerland, for example. Co-editor Schrottoff is professor emeritus of NT at the University of Kassel, Germany, and she writes the comments on 1 Corinthians. Co-editor Wacker is professor of OT and gender research in theology at the University of Münster, Germany, and she writes on Chronicles, Hosea, Joel, Amos, Obadiah, Malachi, and Baruch.
Font of Life: Ambrose, Augustine, and the Mystery of Baptism, by Garry Wills (Oxford, 2012). [Amazon]
Ambrose and Augustine had different backgrounds and very much differed in personality. This Pulitzer Prize-winning author does more in 171 pages than the flyleaf would indicate in saying he "explores the remarkable moment when their lives intersected at one of the most important, yet rarely visited, sites in the Christian world." Under a Milan piazza is the foundation of a 4th-century cathedral where, at dawn on Easter of 387, Augustine and others gathered for baptism after an all-night vigil. Ambrose performed the baptisms, and Monica was among those in the faith who greeted her son and the others. "Though the occasion had deep significance for the participants, this little cluster of devotees was unaware that they were creating the future of the Western church."
The New Testament on Sexuality, by William Loader, Attitudes towards Sexuality in Judaism and Christianity in the Hellenistic Greco-Roman Era (Eerdmans, 2012). [Amazon]
In this series this is the fifth book, following ones on sexuality in: (1) Enoch, Levi, and Jubilees; (2) the Dead Sea Scrolls; (3) the Pseudepigrapha; and (4) Philo, Josephus, and the Testaments of the Twelve Patriarchs. Loader is professor emeritus of NT at Murdoch University in Perth, Australia. He wrote each of the other volumes in this series as well. Edinburgh's Paul Foster praises the volumes and says this NT one is a "magisterial study which will enrich the understanding of all who read it." His treatment of Romans 1 seems very conservative. For example, Loader dismisses the possibility that Romans 1:27 refers not to homosexuals but to heterosexuals becoming perverted. He says, too, that although [the Greek-Latin hybrid word] "homosexuality" is of 19th century origin (appearing in print for the first time in a German pamphlet in 1869) and that today's understanding of homosexuality is better than was possible in ancient or even up to very recent times, nonetheless St. Paul neither completely lacked awareness of what we call homosexual orientation nor excused either mental or behavioral same-sex-focused activity. The book has hundreds of footnotes, a substantial bibliography, and two indexes.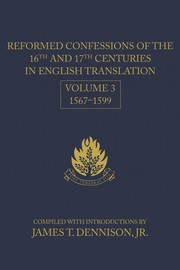 Reformed Confessions of the 16th and 17th Centuries in English Translation: Volume 3, 1567-1599, compiled with introductions by James T. Dennison Jr. (Reformation Heritage Books, 2012). [Amazon]
Many of these confessions and catechisms are translated into English for the first time. Another great service of this multi-volume project is the assembling of this material, making it much easier to access. Volume 3 contains the 69th through the 91st of the documents, and here is a sample: 69. Documents of the Debrecen Synod (1567); 70. The Synod at Szikszó (1568); 71. Confession of the Synod of Cassov (1568); 72. Confession of Varadiensis/Nagyvárad (1569); 73. Sandomierz Consensus (1570); 74. The Confession of the Synod of Csenger (1570); 75. The Confession of La Rochelle (1571); & now to skip forward to 88. The Bremen Consensus (1595);  89. The Lambeth Articles (1595); 90. The Second Confession of the London-Amsterdam Church (1596); 91. The Stafforts Book (1599).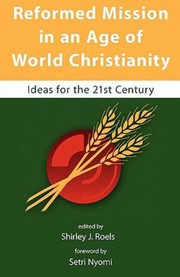 Reformed Mission in an Age of World Christianity: Ideas for the 21st Century, ed. Shirley Roels (The Calvin Press, Calvin College, 2011). [Amazon]

Richard Mouw leads off with "Elected for a Global Mission: The Call to the Broader Reformed Agenda." This is followed by five Parts, each with two essays, and a concluding "Challenges and Opportunities: A Next-Steps Discussion." In June 2010 a conference was organized by "Calvin College centers and institutes along with other college leaders, in partnership with the International Association for the Promotion of Christian Higher Education (IAPCHE)." This was just before Calvin served as the host site for the merger of the Reformed Ecumenical Council with the World Alliance of Reformed Churches to form the new World Communion of Reformed Churches (WCRC). "The conference was designed both to strengthen the contribution of Reformed Christian faith for world Christianity and to listen to some of our global Christian partners. Based on such listening and learning at the conference, this set of resources [i.e. this book] was subsequently created to enhance our mutual understanding and deepen our conversation." IAPCHE's Nick Lantinga says (back cover)…
Augustine noted that through harmony we imitate God's unity. As Christians gather from various cultures, we "hear" the polyphonic songs that emerge from living between Scripture and culture. Convinced of such Reformed emphases as God's sovereignty over all things and driven to attend to all the hurts of the world, Christians from various cultures and denominations here raise their sweet-sad songs of faithful witness across several realms of human endeavor. I pray that the essays in this volume will provide such delight that readers will become "singers," further contributing to the symphonic shalom that all people seek.
The book is 121 pages, and opening to page 76ff these words about "covenant" as "an indispensable and compelling biblical image" seem worth noting (the essay is John Witvliet's "Covenantal Communities and Reformed Mission Worldwide"):
Consider a few of its excellencies. First, "covenant" is an image of interpersonal relationality and belonging. […] Second, a covenant describes a relationship that is promise based and other regarding. […] Third, the image is corporate, rather than private or individualistic. […] Fourth, covenant relationships are strengthened by a deep awareness of unfolding time. […] Fifth, covenants exist for a larger purpose. They are designed to be a source of blessing beyond themselves. They are exocentric.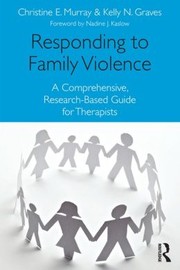 Responding to Family Violence: A Comprehensive, Research-Based Guide for Therapists, by Christine E. Murray & Kelly N. Graves (Routledge, 2013). [Amazon]
This helps "answer the personal and professional questions therapists have as they provide competent clinical treatment to clients who have experienced family violence." It does so "in an accessible and user-friendly way. […] Professionals and students alike will find that, with this book, they can help their clients overcome the significant traumas and challenges they face to let their strength and resilience shine through."  The authors are professors at universities in North Carolina (UNCG and NCAT).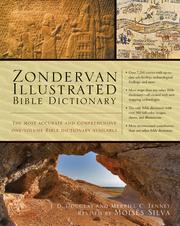 Zondervan Illustrated Bible Dictionary, edited by J. D. Douglas and Merrill C. Tenney, revised by Moisés Silva (Zondervan, 2011). [Amazon]
This "revision preservs a fundamental continuity with the two previous editions, yet in many important respects it represents a new work," to quote Silva's Introduction. Those previous two editions were the Zondervan Pictorial Bible Dictionary in 1963 (ed. Tenney) and the New International Dictionary of the Bible in 1987 (Douglas being the revising editor). Silva's edition is printed in color throughout and there are 1,800 new entries added, making a total of 7,200. Previous articles all have been revised, with most of them having major revisions or even being totally rewritten. One thing that made this easier was the use and even transfer (with only minor revision) of material in the revised Zondervan Encyclopedia of the Bible (2009; in 5 vols.), for which Silva also served as the revising editor.