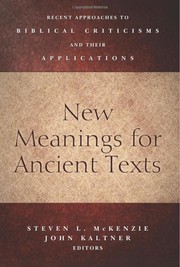 New Meanings for Ancient Texts: Recent Approaches to Biblical Criticisms and Their Applications, edited by Steven McKenzie and John Kaltner (WJK, 2013).
Both editors teach at Rhodes College in Memphis, TN. There are 9 chapters from 11 contributors. Chapters two and five each are co-authored and respectively titled "Disability Studies and the Bible" and "The Bible and Popular Culture". Other chapters each deal with one of these "criticisms": cultural-historical criticism; ecological criticism; new historicism; postcolonial biblical criticism; postmodernism; psychological biblical criticism; and queer criticism. As this book focuses on newer methods of biblical criticism, older approaches, such as higher criticism, rhetorical criticism, or form criticism, are not covered.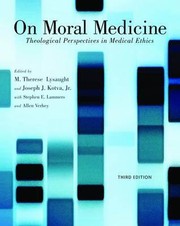 On Moral Medicine: Theological Perspectives in Medical Ethics, edited by M. Therese Lysaught and Joseph J. Kotva, 3rd ed. (Eerdmans, 2012).
This is "the single most authoritative sourcebook on Christian medical ethics in the English language today." There are 6 parts comprising 23 chapters, which in turn comprise 156 sections, each by a contributor—scholars, ethicists, etc., but also some noted people of the past, such as Karl Barth (on "Respect for Life") and C. S. Lewis (on "Vivisection").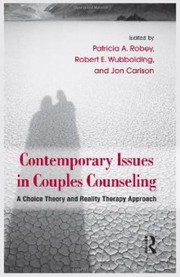 Contemporary Issues in Couples Counseling: A Choice Theory and Reality Therapy Approach, edited by Patricia A. Robey, Robert E. Wubbolding, and Jon Carlson, The Family Therapy and Counseling Series (Routledge, 2012).
William and Carleen Glasser, well known and co-authors of Getting Together and Staying Together, say that this book "is a practical and usable example of counseling at its best." The 17 essays or chapters fall under four major parts. Some essays treat special situations, such as counseling military folks and counseling celebrities or notable figures.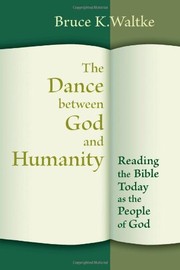 The Dance Between God and Humanity: Reading the Bible Today as the People of God, by Bruce Waltke (Eerdmans, 2013).
V. Philips Long, our former prof now at Regent (in Vancouver), is quoted on the back cover as saying, in part: "Both author and publisher are to be congratulated for making these sometimes hard-to-acquire essays available in such a convenient, substantial volume." This collection of 31 essays begins with "Introduction: My Philosophy of Christian Education" and then is divided into two parts—"Part I: Biblical Theological Studies" and "Part II: Biblical Theological Themes". Part I includes essays on textual criticism, canon, Genesis 1, Psalms, and Proverbs. Part II includes essays titles such as "Evangelical Spirituality: A Biblical Scholar's Perspective," "Hermeneutics and the Spiritual Life," "The Relationship of the Sexes in the Bible," "Birds," and "Theonomy in Relation to Dispensational and Covenant Theologies."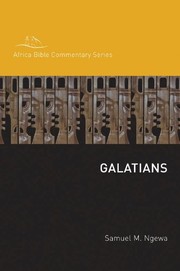 Galatians, by Samuel M. Ngewa, Africa Bible Commentary Series (Hippobooks 2010).
The author teaches at Nairobi Evangelical Graduate School of Theology. Craig Blomberg writes on the back cover, "There is little that Ngewa presents that cannot greatly illumine and challenge Christian living in any part of the world."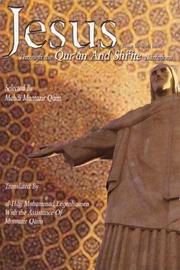 Jesus, Peace be with Him, Through Shiʻite Narrations, selected by Mahdi Muntazir Qa'im, translated by Muhammad Leganhausen (Elmhurst, NY: Tahrike Tarsile Qur'an, 2005)
According to the Preface, "What is offered here is a fairly comprehensive selection of the Āyāt (signs) of Holly [sic] Qur'ān and narrations pertaining to Jesus said to have been reported by the Shīʻi Imams." The texts are presented with English and Arabic on facing pages. The back cover affirms Jesus' virgin birth and resurrection and says, "He will come back one day and will invite people to God with the Mahdi, the Shi'ites' Imam. If someone believes in all the prophets but denies Jesus (peace be with him), he cannot be considered a believer in Islam."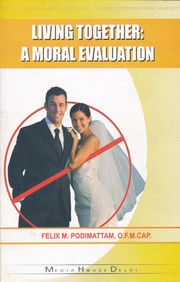 Living Together: A Moral Evaluation, by Felix Podimattam (Media House, Delhi, 2011).
Books from India by Christians offer non-Western perspectives and often would not be owned by a library in our consortia or region if we did not acquire them. Roman Catholic presence in India is significant, and so not a few Christian books from India, like this one, are written by Catholics. This author has written 100 books according to the cover, and has a doctorate (done in Rome) in Moral Theology. "This is an in-depth study of living together or cohabitation outside marriage from a mainstream Christian moral theological perspective." One "crucial distinction [that] is made [is] between pre-nuptial cohabitation where marriage is intended, and non-nuptial cohabitation where it is avoided."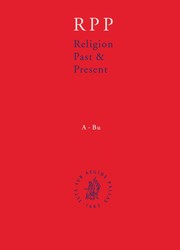 Religion Past & Present: Encyclopedia of Theology and Religion, edited by Hans Dieter Betz, Don S. Browning, Bernd Janowski, and Eberhard Jüngel (Brill, 2007–2013).
The library recently received the 14th and final volume (the Index) of this set. Religion Past & Present is a translation of the fourth (and fully revised) edition of the renowned Religion in Geschichte und Gegenwart (or RGG4), which reached completion in 2004. This encyclopedia has contributions from 3,972 authors from 74 countries, for a total of 15,665 articles (or parts thereof in the case of substantial articles).
Building the Old Time Religion: Women Evangelists in the Progressive Era, by Priscilla Pope-Levison (New York University Press, 2014).
In the conclusion, the author notes that "The earnings of Billy Sunday's organization ranked among the wealthiest corporations in the country alongside the likes of Standard Oil and National Cash Register." Likewise, Dwight L. Moody "rubbed shoulders with the likes of John Wanamaker in Philadelphia and Cyrus McCormick in Chicago." Pope-Levison attributes the fame of these male evangelists in no little measure to the bankrolling of their ministries compared to the lack thereof in the case of female evangelists such as Iva Durham Vennard and Mary Magdalena Lewis Tate. For a variety of reasons Aimee Semple McPherson is not a forgotten evangelist. As Pope-Levison says, "Her story even made headlines again recently as a Broadway musical." And, the "denomination she launched in 1927, the International Church of the Foursquare Gospel, ranks as the largest founded by a woman, with over seven million members who gather in nearly 67,000 churches and meeting places in 135 countries." Pope-Levison's research is evident in her bibliography and the archives she used, including the Billy Graham Center Archives at Wheaton, Union Seminary/Columbia University, and eleven others. She is professor of theology at Seattle Pacific University and has written several previous books including Return to Babel: Global Perspectives on the Bible and Sex, Gender, and Christianity.
For the Cause of the Son of God: The Missionary Significance of the Belgic Confession, by Wes Bredenhof, Reformed Mission History, no. 1 (Reformation Media & Press, 2011).
The author served from 2000-2005 as a missionary in Fort Babine, BC among the native people, and now is pastor of Providence Canadian Reformed Church in Hamilton, ON. He has a ThD from Reformation International Theological Seminary. Of this book, Canadian Reformed Theological Seminary mission prof Dr. Adjan de Visser says in part, "It would be an understatement to say that Dr. Wes Brendenhof has chosen a neglected topic for this book by studying the missiological relevance of the Belgic Confession. […] In our days the idea is widespread that the Belgic Confession has no missiological relevance at all." Joel Beeke, president of Puritan Reformed Theological Seminary, notes, "He draws from international scholarship and a broad array of academic disciplines in providing a holistic challenge to the caricature of the Reformation as an inward-focused neglect of the church's missionary enterprise."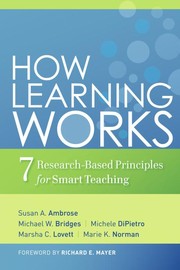 How Learning Works: Seven Research-Based Principles for Smart Teaching, by Susan A. Ambrose, et al., The Jossey-Bass Higher and Adult Education Series (Jossey-Bass, 2010).
Five authors wrote this book, including Ambrose, who is a Carnegie Mellon University professor of history, and director of the Eberly Center for Teaching Excellence. Three others are connected with the Center and the fourth directs faculty development at the University of Pittsburgh Medical Center. The 7 principles:
Students' prior knowledge can help or hinder learning
How students organize knowledge influences how they learn & apply what they know
Students' motivation generates, directs, and sustains what they do to learn
To develop mastery, students must acquire component skills, practice integrating them, and know when to apply what they have learned
Goal-directed practice coupled with targeted feedback are critical to learning
Students' current level of development interacts with the social, emotional, and intellectual climate of the course to impact learning
To become self-directed learners, students must learn to assess the demands of the task, evaluate their own knowledge & skills, plan their approach, monitor their progress, and adjust their strategies as needed.
There are 8 appendices, on such matters as concept maps, rubrics, learning objectives, checklists, peer review, the use of student self-assessment, etc.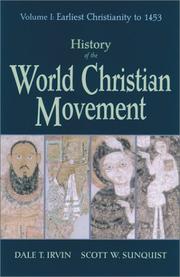 History of the World Christian Movement, Volume II, Modern Christianity from 1454 to 1800, by Dale T. Irvin and Scott W. Sunquist (Orbis, 2012).
Volume I appeared in 2011 and covered Earliest Christianity to 1453. There is to be a third volume covering since 1800. Irvin is president of New York Theological Seminary and professor of World Christianity. Sunquist is dean of Fuller's School of Intercultural Studies and professor of World Christianity. Mark Noll commends this volume as "fine" and "solid" and inclusive of the Eastern Churches and of Christianity in Asia, Africa, etc. Three parts comprise 19 chapters. The parts cover 1454-1600, the seventeenth century, and the eighteenth century.